Five Audio Visual Solutions for Tiny to Large Budgets
---
---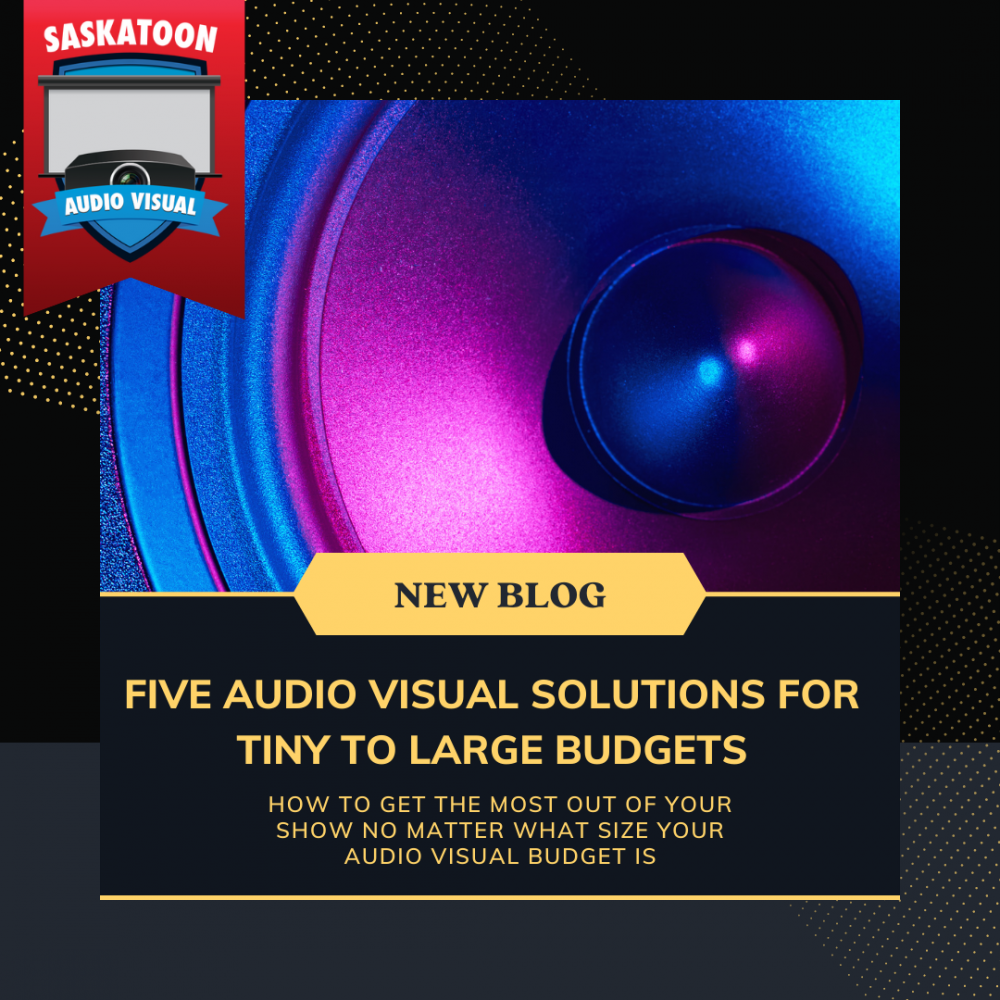 Saskatoon event planners sometimes avoid considering AV services because they assume they can't afford them. Instead, they go along with the bare minimum of what a venue can offer because it's easy. But making decisions based on assumptions can leave your attendees with a lackluster view of your event.
There is AV tech available in YXE at every price point whether you have a small or large budget.
Every event is different - as are the finances behind them. We've laid out some of the most requested AV production categories and how you can employ a version of them, regardless of your budget.
You can use these suggestions as a way to cut costs in your AV expenditure or as tips for getting so much more from your audio visual in areas that are important to you.
1. Use Projections to Deliver Experience
Projections run the gamut for cost. There are a large variety of Saskatoon venue spaces and the larger they are, the more costly they are. But don't write them off just because your budget is small.
What are projections?
Projections use projectors and screens to apply a light image onto a surface. Some light projections fit a 1-dimensional surface, while projection mapping can project a design on a 3-dimensional object completely transforming it.
Small Budgets:
A wall projection. This simple approach projects something like a logo or non-animated design on a focus wall. It can be ideal as a stage backdrop, above a buffet table, or over an area that gets a lot of foot traffic or views like an entrance floor.
Large Budgets:
Projection mapping. Projection mapping can get quite costly quickly, especially if you start having massively creative ideas of turning the decor of your convention centre into the command room for a spaceship. However, you can use it if you only have a mid-range budget as well. You just need to be a little more directed. Look for a smaller area that will get noticed. Again, this could be a wall behind registration or the buffet.
Projection mapping can do some intense things with animation. Costs will incrementally increase the larger and more complex your idea.
2. Book Audio Services That Resonate with Your Guests
Good audio services are a must, but what can you afford? When planning your next Saskatoon meeting, gala, conference or other event think about the audio needs for your audience.
Small Budgets:
Advanced mic system and speakers.
Whenever possible, consider upgrading from your venue's standard offering. Professional Audio equipment can make a huge difference in sound quality.
Large Budgets:
Multiple mics, lapel mics and tailored sound systems.
For bigger events in Saskatoon consider using multiple mics, lapel hands free microphones and wireless handheld microphones to make your event more versatile. Add in a tailored sound system for total room fill depending on your venue, ceiling speakers are limited to being aimed down while PA systems can direct the sound anywhere and be managed for proper distribution.
3. Use Lighting Design to Set the Scene
Lighting sets the mood. An investment in lighting can communicate much more than simply being able to see the stage.
Small Budgets:
LED Uplights.
Our wireless uplights are an easy way to change the atmosphere of your room.
Large Budgets:
Moving fixtures with digital consoles and programming.
More event planners are embracing intelligent fixtures which light up and move as programmed. You can also request custom gobos to project your logo onto any surface.
4. Pick Visual Technology That Gets Attention
Visual technology is a broad category that encompasses everything from projections to cameras, just as the name denotes. They key to creating a memorable visual experience at your event involves choosing the right equipment.
Small Budgets:
A wall projector and screen. You can easily turn an empty space into a branding opportunity or something else of interest with a projector and screen.
Large Budgets:
HD projector and LED walls.
An option for larger events and larger budgets is LED walls. These items are as clear as television screens but provide a futuristic look. They are brighter than projectors and can create a visually exciting image.
5. Be Savvy with Interactive Technology to Be a Cut Above
This area of tech tends to be a little pricier, but within the category, we've split out the least expensive area of entry all the way up to high AV budget options.
Small Budgets:
Cameras and Livestreams. With one or multiple cameras you can have a live image both on the screen and on the internet for everyone to see which is called a 'hybrid' event.
Large budgets:
Professional TV Style presentation. Everything from Lower Thirds on screen graphic animation to show the persons name while they're speaking to enhanced animated graphics for sporting events, weddings, and more.
Conclusion
It can sometimes be difficult to fully understand all of your audio visual options. While hiring an AV company can seem expensive, there are plenty of ways you can afford and customize a small service for big impact. A little bit more budget can make a huge difference in terms of wow factor. Partnering with a Saskatoon audio visual company can help you understand what you can afford and how to bring those services to your event for maximum attendee enjoyment.
In YXE, we work as an extension of your event planning team so AV production is one less thing you have to worry about. But that one thing has an extraordinary effect on your audience, so you don't want to leave it as an afterthought.
---